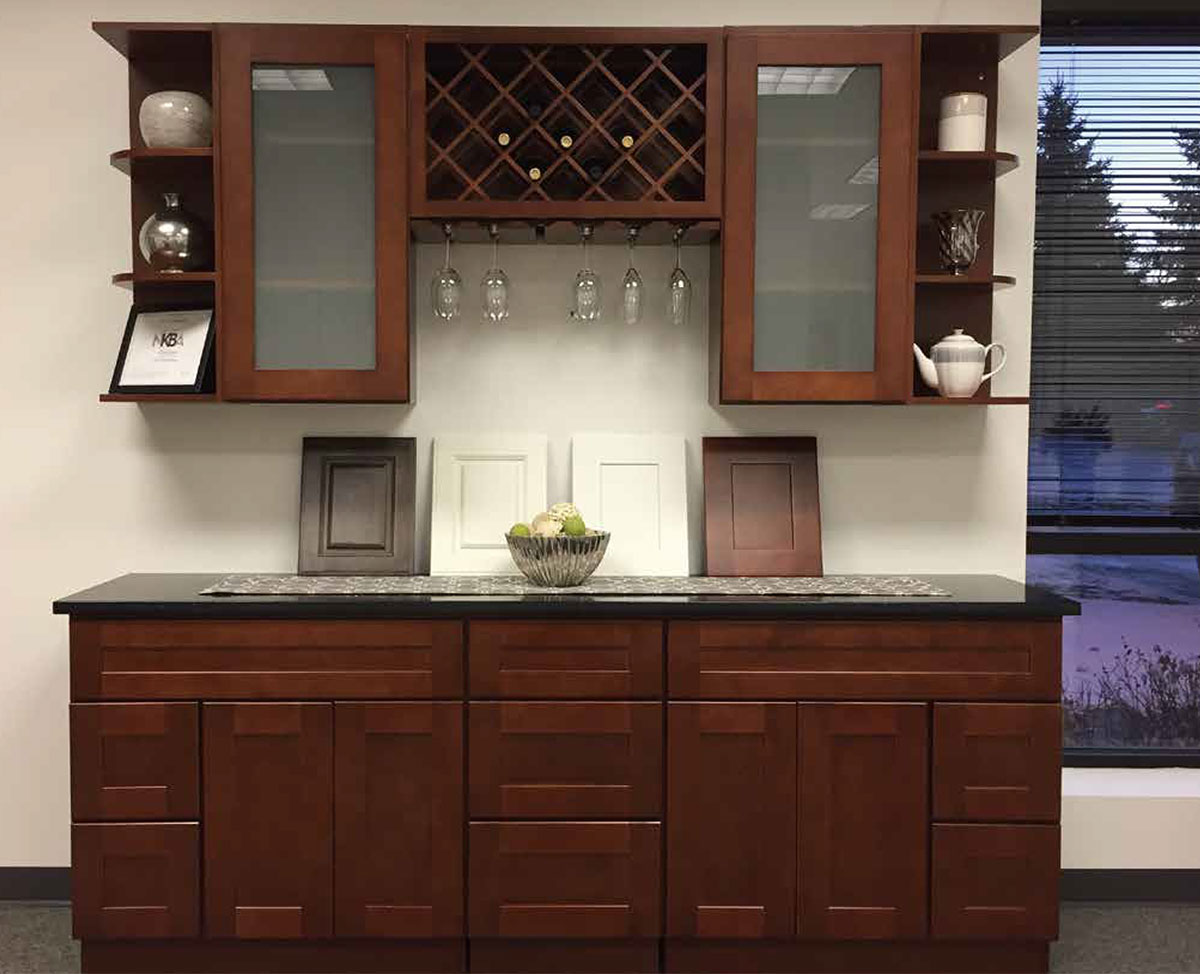 Cherry wood kitchen cabinets doors and drawers with full overlays and 3/4″ thick panels
Dark Cherry kitchen Cabinets, Six-way movable European Design Fully Covered Adjustable Soft-Closing Hinges 1/2″ cabinet grade plywood, a 3/4″ shelf, and metal shelf supports
Cherry kitchen cabinets D-shaped drawer Solid Wood Side Panels Without Finger Joints, 1/2″ Thick
cherry

shaker

cabinets kitchen total Extending Soft-closing concealed glide system under-mount
Metal Brackets for 1/2″ Thick Grade Plywood Box Construction Modifications to Base Cabinets
dark Cherry kitchen cabinet joint with a Double Doweled Face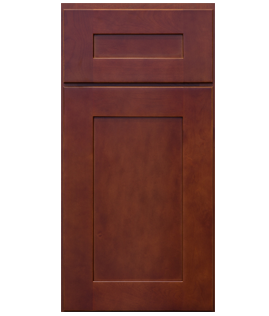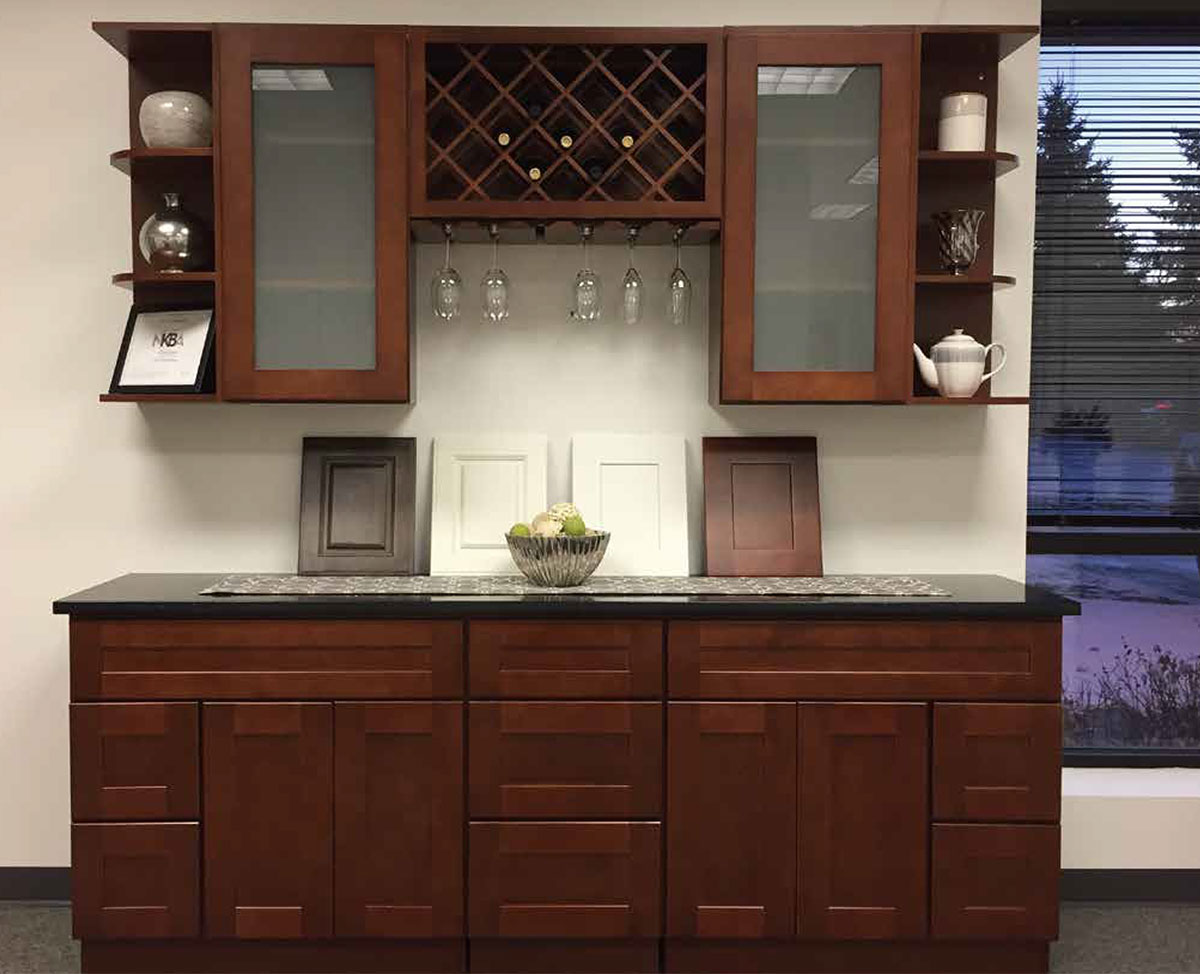 Installations - modern cherry kitchen cabinets
You could be concerned about installation ease of Mercury Cherry Cabinets Minnesota before beginning a cabinetry project. Because we offer a customized solution, you won't have to put much work into installing your cherry kitchen cabinets Eagan MN. Adding bespoke parts like veneers and cabinet moldings may make things more challenging, even if the majority of cabinet door designs have conventional installation techniques.
Residential and commercial bathrooms, kitchens, and bedrooms
Fireplace walls, living rooms, dining rooms, offices, and playrooms
Closets, offices, restaurants, and shops; laundry rooms;
Spaces Outside & More…
Wholesaler Cherry Cabinet in Florida, Minnesota and Surrounding Areas
Now that you have finally decided to go for cherry kitchen cabinets in Minnesota, what's next? How do you intend to get started? What aspects must you consider to get your kitchen done right? You must sit back and ask yourself all such questions that can help you make a perfect decision.
At FGT Cabinetry, we ensure that your kitchen solutions exhibit a pictorial combination of timeliness elegance and unmatched craftsmanship. If you want a kitchen that looks sophisticated, beautiful, and exudes warmth, cherry kitchen cabinets in South Dakota are just the way to go.
But how do you choose these cabinets? More specifically, how do you make a pick based on their design, color combination, features, and appearance? After all, you would want this space to captivate the attention of your friends and family every time they visit.
This isn't too tough to achieve. We can make sure of that.
Are cherry cabinets a good idea?
That depends on how you like your kitchen to look. RTA cherry cabinets in Iowa come in all shapes and sizes, and offer durability, along with a touch of warmth to the entire space. The rich tones and unique grainy patterns' rta cherry cabinets give away a strikingly beautiful appearance that is impossible to miss.
Why are cherry cabinets so popular?
Cherry kitchen cabinets are preferred nowadays because they are versatile and naturally beautiful. Light cherry cabinets comprise reddish brown hues along with deep grain patterns that add a unique character to your kitchen's design. You can install these elegant cherry wood kitchen cabinets to complement different styles, be it modern or traditional, which is also why they are often a preferred choice of leading interior designers.
What are the benefits of a cherry kitchen?
Cherry wood is what you can call a prime ingredient for such kitchen designs. This wood is quite renowned for its durability as well as long life, and comes with a natural luster that can further be enhanced by giving it the perfect finish. If done right, it will definitely give your kitchen a sense of luxurious appeal. Besides, these cabinets will be resistant to wear and moisture, making them last for a long while.
Is a cherry kitchen an elegant choice?
By all means, you too would agree once you see it. A modern cherry wood kitchen is just what you need to give that space a much-needed touch of elegance and sophistication. You could have this wood shaped and reimagined into just the kind of design you like. Yet, no matter the choice, you will always find your kitchen aesthetics going a notch up with cherry cabinets.
What colors go well with a cherry kitchen?
You could complement these natural cherry kitchen cabinets with several neutral colors, like beige, cream, or even light gray. If you want more of a contrasting shade, you could pair these up with deep shades of charcoal or navy blue. For a more earth tone, your choice could be warm golden hues or olive green, depending on how much more or less you use them. The ambiance of your kitchen will never be dull-looking ever again.
Experience the marvel of Mercury Cherry Kitchen Cabinets, and transform your space into a stylish and inviting one for good.
For a big renovation, you can order a lot of cabinet parts or as little as one cabinet door for a quick fix. Whatever you require from, you can rely on us to provide you with unique, high-quality replacement cabinet components like cherry cabinet in North Dakota.
Browse our wide selection by clicking here, then start the simple ordering procedure right away!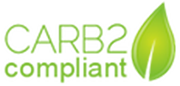 The carb2 compliant seal indicates that the product's formaldehyde levels are well within the safety limits. When buying wood products look for carb2 certification.
The NKBA developed its certification programs as a way for kitchen and bath professionals to market themselves as experts in their field. The NKBA envisions a world where everyone enjoys safe, beautiful and functional kitchen and bath spaces.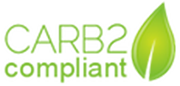 The carb2 compliant seal indicates that the product's formaldehyde levels are well within the safety limits. When buying wood products look for carb2 certification.